MOBILE FIXTURES:
Shelving and fixtures on castors is a creative way to draw interest to your store.  Many progressive retailers have used this approach to help catch the customer's attention and also guide them through the store.  While it may not be practical to change the primary layout of your store on a frequent basis, having one or two specialty fixtures or small gondolas on castors can have a dramatic effect on the visual perception of the store by the customers.   Most c-stores have some primary gondola shelving runs that should be fixed in place.  However, a 4-way gondola unit or a short 3-foot gondola shelving unit with attached end frames, can be used to highlight special sale items or special seasonal merchandise in the center of the store.   The use of mobile gondola shelving should not be widespread throughout the store.  Rather it should be used to focus attention on certain distinct displays to which the retailer wants to draw attention.   This differentiation can be extremely effective for key merchandise.   This especially true of big events and upcoming holidays where merchandise relating to these events can be highlighted for the customer's attention.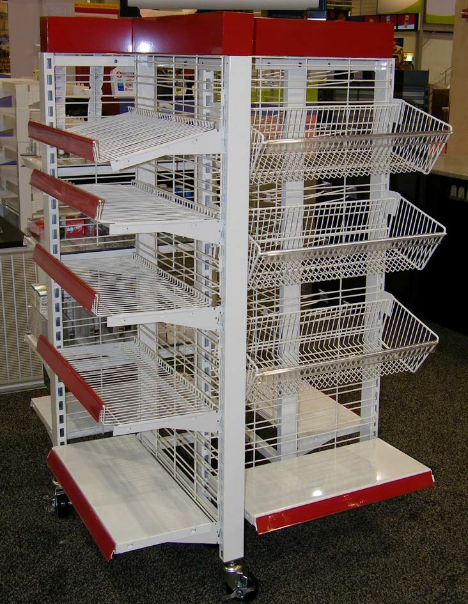 Another aspect of mobile displays is day part merchandising.  Mobile fixtures give retailers the ability to easily change the store layout to fit the changing needs of shoppers, whether this is over a period of weeks or throughout the day.  One creative retailer had two mobile merchandiser units at the sales counter and two identical mobile merchandiser units as end caps across the aisle at the ends of two gondola shelving runs.  One set of mobile merchandiser units had pastries and breakfast treats. The other set of mobile merchandiser units had chips and salty snacks that were big sellers in the afternoon. In the morning, the units with the pastries were positioned at the sales counter.  In the afternoon, the units would be switched, with the salty snacks and chips positioned by the sales counter to capture the attention of that daypart crowd.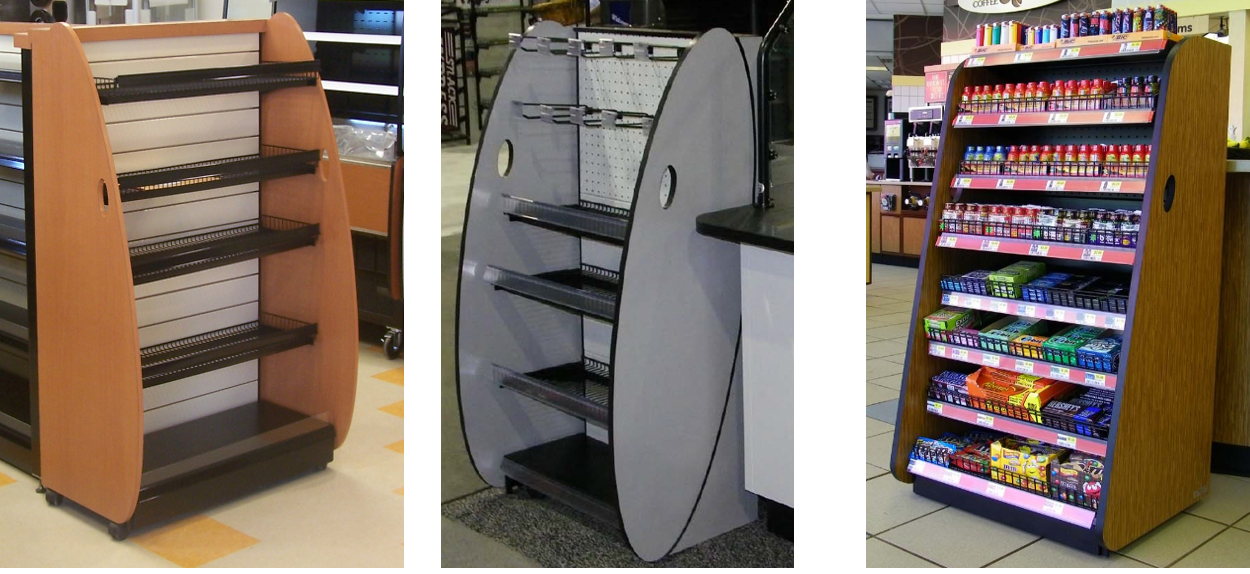 Or do you have an overstock of some merchandise that might take weeks to clear out? Use mobile fixtures to create sales opportunities throughout the store. There are many possibilities for the creative retailer.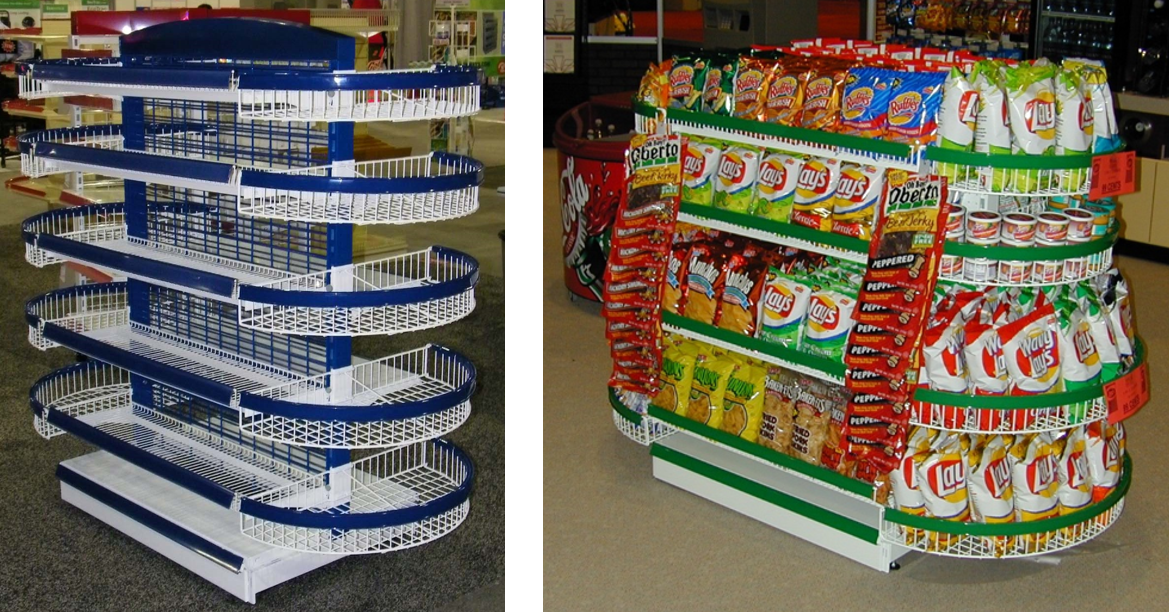 The ability to easily change the store layout to fit the changing needs of shoppers, special sales, and events is an important part of the gondola shelving layout in any store and should be thought out carefully.   SHOPCO's experienced professional design team can assist with this and other design considerations for the gondola shelving layout.
SPECIALTY MERCHANDISERS: 
Specialty merchandisers are another tool in the savvy merchandiser's toolkit that can be used to attract the customer's attention.   A small merchandiser unit (like a wrap unit, a small 4-way gondola, a pyramid table, or a circular display) can be used to accent special merchandise.  Placing a few mobile merchandisers around the store in non-obvious locations almost always increases sales of those products and creates interest among customers.  These displays can be used for seasonal merchandise, special sale items, and are especially good for experimentation of various items to see what works in different areas within the store.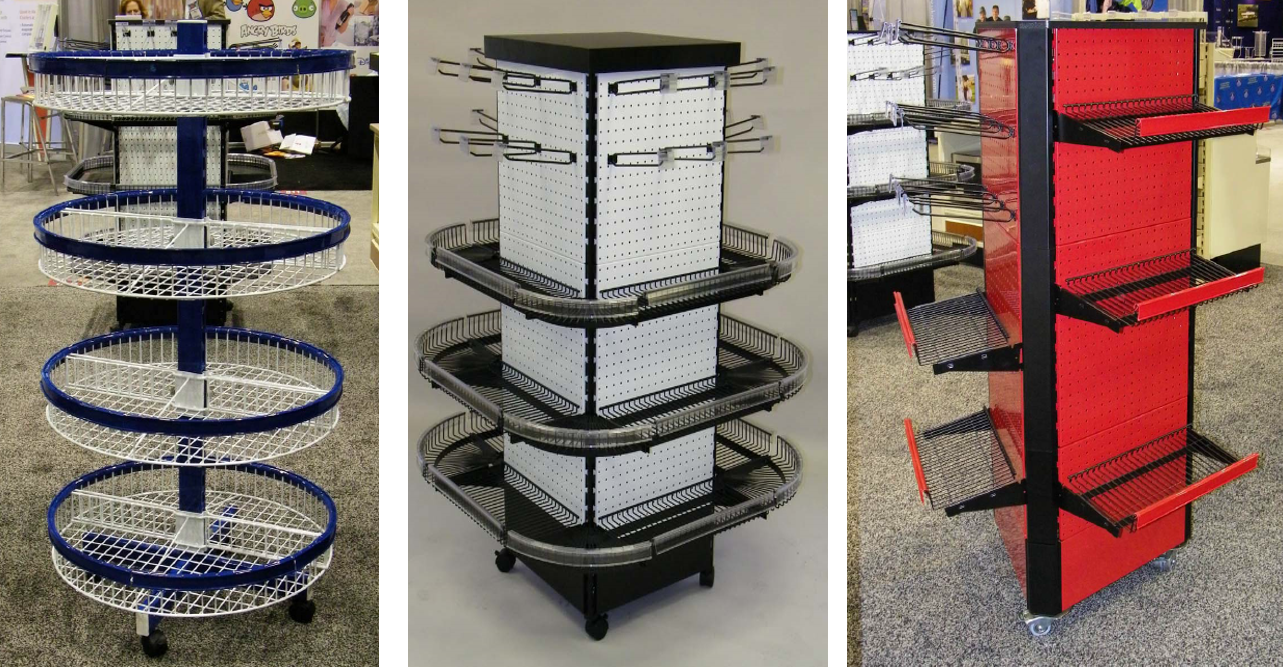 These spot merchandisers should complement the primary gondola shelving layout of the store.   They can be used to tie product categories together without totally realigning product groupings or fixtures. For example, certain types of ethnic foods could be promoted in adjacent areas without having to totally realign the store's merchandise layout.   And they can be used to test new products or product categories on a trial basis, without having to adjust the primary gondola shelving layout.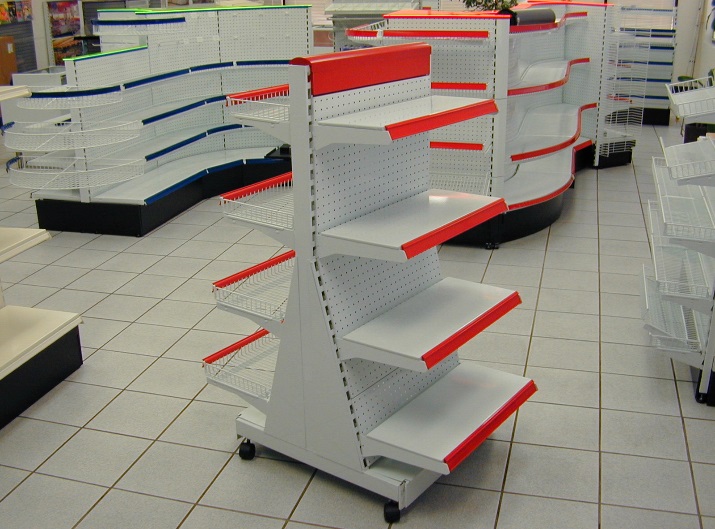 IN STORE MARKETING: 
Signage and in-store marketing can be extremely beneficial to the store's impulse sales and often creates sales opportunities that would otherwise have been missed.   Signage can help brand recognition and also help the creative retailer direct the customer's attention to what the retailer wants to sell (higher profit items and/or special sales items that the retailer wants to move out).   Signage can help the customer find the type of merchandise they are looking for, but can also alert the customer to a type of merchandise that is available that they haven't thought of as a need and actually help to stimulate impulse sales.
However, any signage for the gondola shelving should be tastefully done and should be consistent throughout the store and fit with the design of the store.  In other words, the store shouldn't have several different style signs on the gondola shelving.  It should be a carefully coordinated sign program with each sign of the same design and size as the others on the gondola shelving.  There should not be temporary looking signs, but rather a signage that looks like it was designed for the store, to fit with the gondola shelving, and help direct the customer.
Another type of signage is the graphics on the walls of the store.   These should be attractively designed to catch the customers attention, help them find the section of the store with type of merchandise they are looking for, and to add to the aesthetics of the store.  Large graphics that are backlit and attractively designed can contribute to the stores overall appearance and help create the feel of an upscale environment.  This will enrich the customer's experience and make them feel like they are in a clean and welcoming setting.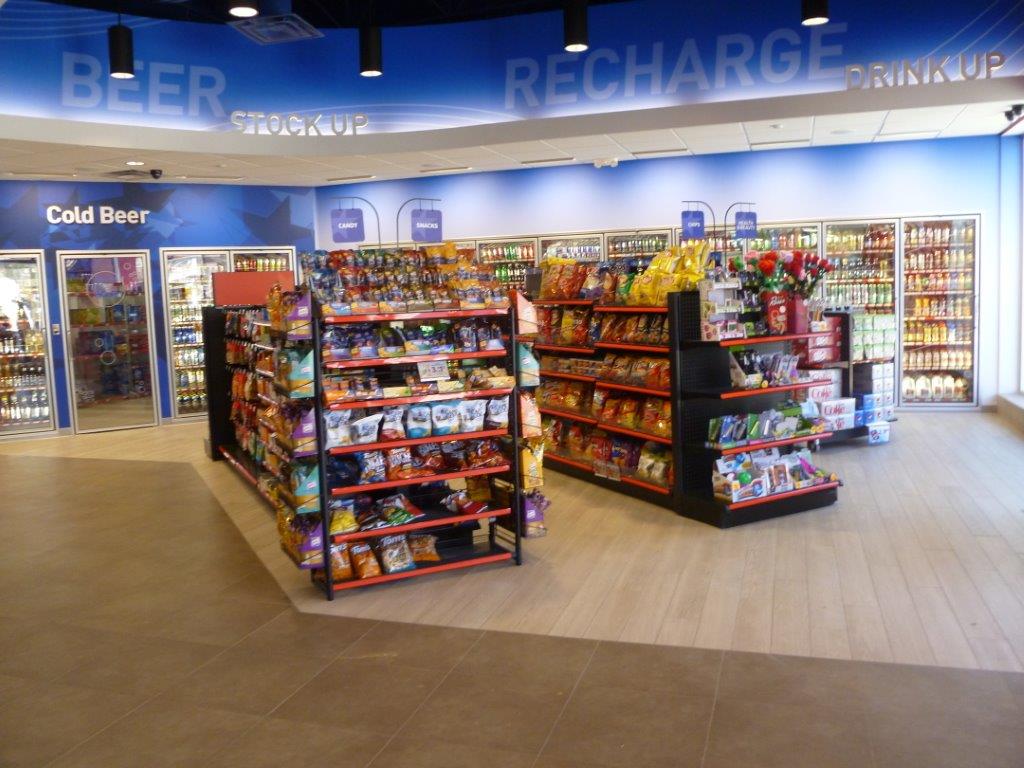 Additionally, many c-store operators think that they need to put as many banner type signs in their windows as possible to show to the customers at the pumps.  This is often counterproductive, as it tends to block the view of the customer to the inside of the store.   It has been shown to be a powerful means of attracting customers into the store when they have a clear vision to the inside, especially when the inside is clean and attractive.  Many customers are wary of walking into stores that are dark or not very visible from the outside.  It is the view into the upscale image of the store that actually attracts customers to come inside.
Finally, the smart retailer will have a few special signs that focus on merchandise with a higher profit margin, or new, or innovative type products.  Maybe they have something that their known for, particular point-of-difference from other c-stores in the area, such as a special candy or treat, or a special type of jerky, or a special sandwich, which they want to emphasize to the customers.  This type of signage should be kept to a minimum and only used in a few spot for special items.   Such signage can be designed to educate, entertain and engage shoppers with key messages they might not otherwise see.
C-STORE LIGHTING: 
Another important aspect of store layout and design is the lighting in the store.  This is one of the most misunderstood design features that often goes unnoticed.  Done correctly lighting affects the customer's mood and the overall ambiance of the store.  It can have a tremendous effect on the customer's shopping behavior as well as their perception of the store.   Lighting can help focus the customer's attention on specific product areas, such as the candy section of the gondola shelving, or a specialty product section that the retailer wants to emphasize.  And it can change the customer's mood and mindset from "hurry to complete the purchase", to "look around and see what other needs and wants could be addressed".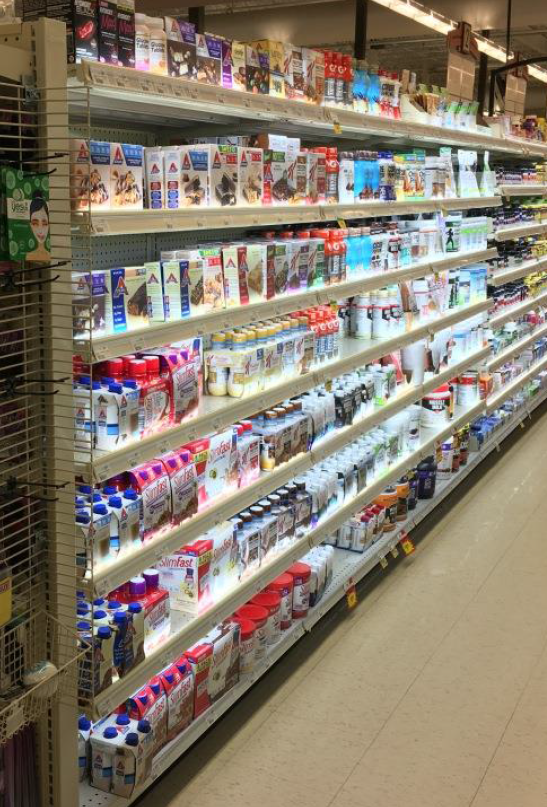 It is important to understand customer psychology and break the usual mindset of trying to get in and out of the store as quickly as possible.  If the retailer can use a creative arrangement of gondola shelving that catches the customer's attention, then use lighting to direct their attention to certain areas, it can have a tremendous impact on impulse sales.  Properly designed, the ceiling lighting can help the customers navigate the pathways between the gondola shelving runs and make them feel comfortable. Then spot lights and lighting on the gondola shelves themselves, can help focus attention on the desired areas of the store.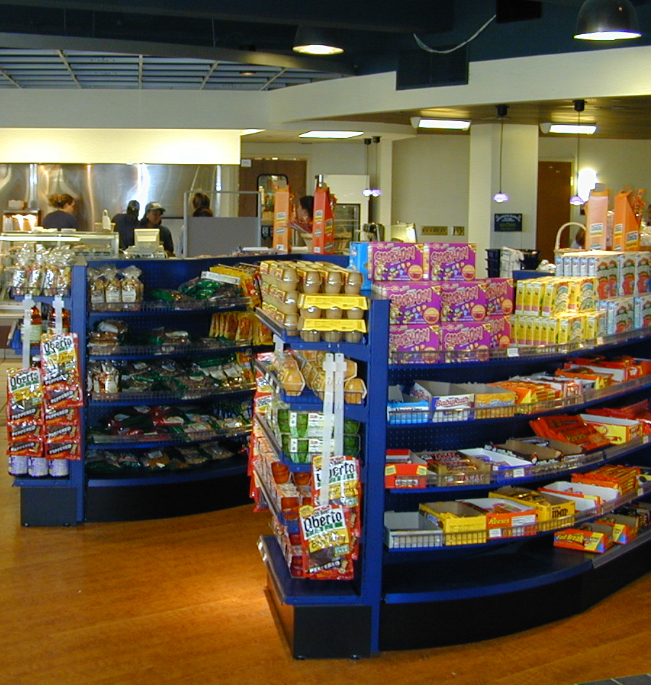 Also, lighting of certain areas can draw attention to sale items, or even better, high profit items that may otherwise be neglected.  People's eyes are generally drawn to bright lights and their curiosity is aroused to see what is being lit up and why.    SHOPCO's shelf lighting on individual gondola shelves can help with this lighting effect.  In fact, many retailers are using SHOPCO's lighted shelves for wine end caps and gondola candy displays with outstanding results.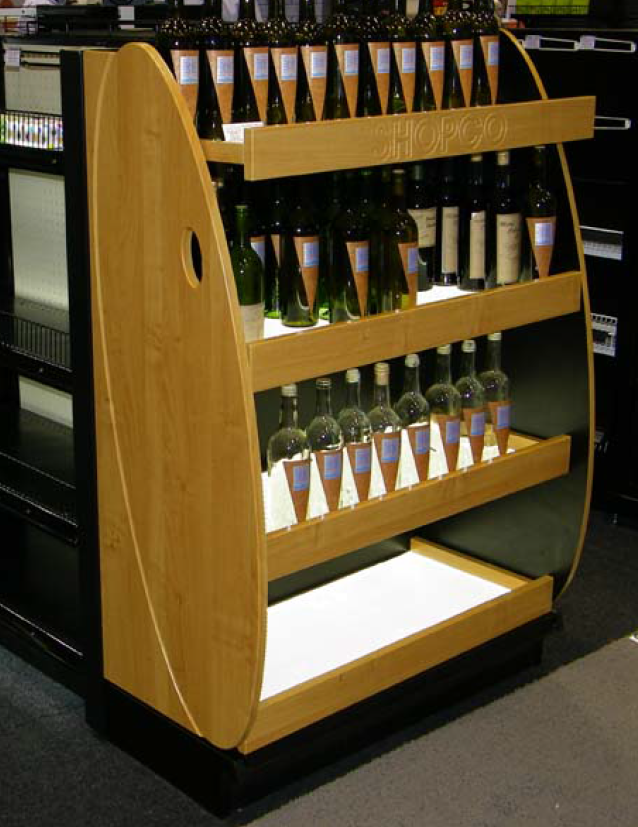 You can use illuminated graphics to guide customers to various areas of the store, and also create a feeling of an upscale environment rather than another mundane c-store.   Well designed and attractive illuminated graphics can significantly add to the aesthetic quality of the store and go a long way toward making the customer feel at ease and also impressed with the cleanliness and attractiveness of the store.   Remember, customers are several times more likely to purchase food items in a store with an upscale environment.  It is tied to their perception of cleanliness, which is paramount for food purchases.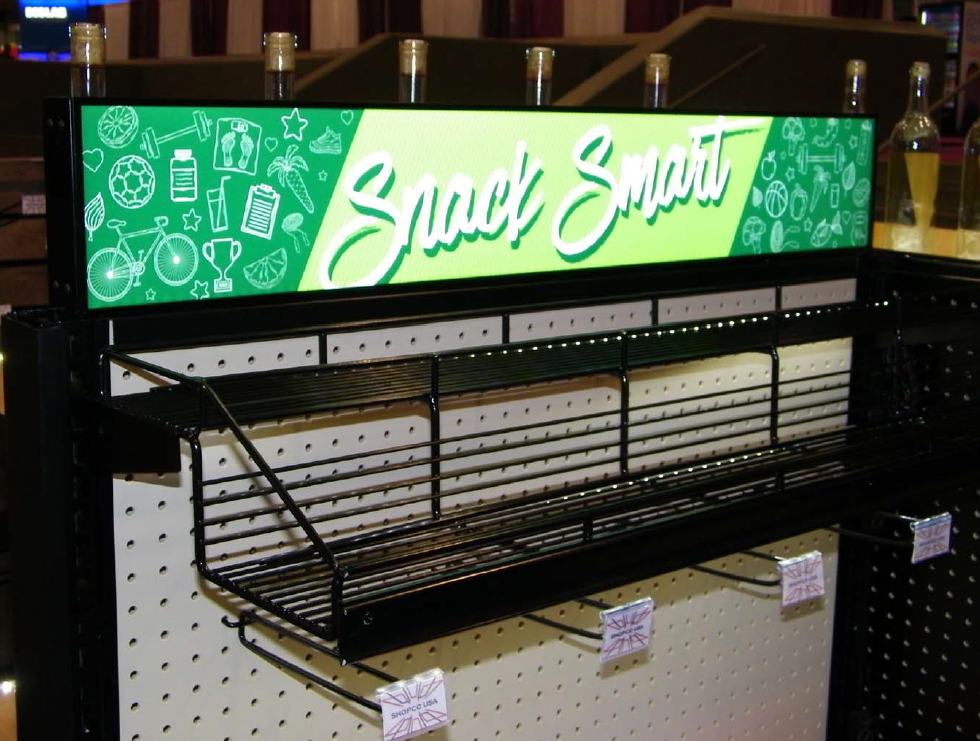 Enhance customer flow:
Most shoppers tend to have the mindset to select their planned purchase merchandise and hurry to the register, especially when they can see no lines.  The whole purpose of a convenience store (in their mind) is for them to be able to get and get out quickly and as conveniently as possible.   If the retailer can break this mindset and get the customer to stop and look around the store, then they will consider their other needs and wants.   Something as simple as turning the gondola shelving at a 45-degree angle can have an amazing effect on customer behavior.   Sometimes adding a smooth curved section to the gondola shelving and having it direct the customer back toward the walk-in cooler will break their mindset and attract their attention toward other items on display on the gondola shelving.
There are patterns of movement in a store which driven more by open spaces and natural flows than products.  Along the way and throughout the entire store, the goal should always be putting the "right" products in the direct path of the customer so that they are exposed to a many impulse items as possible.   Often the most important determinant for sales is based not on price, but on the placement of store fixtures displaying those goods.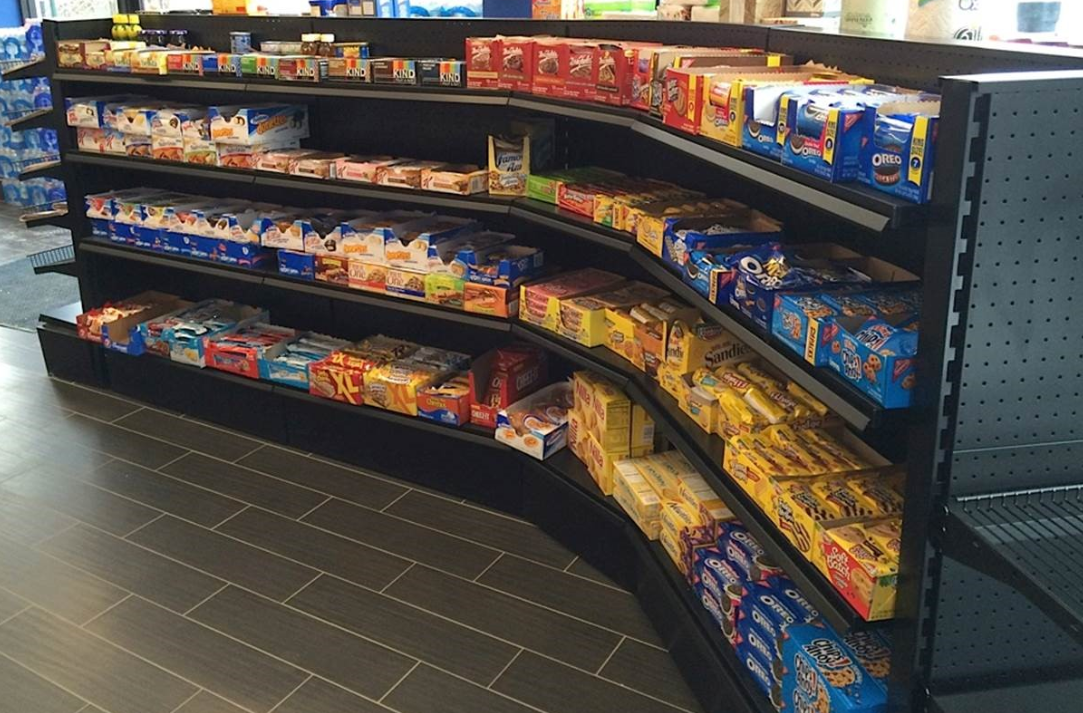 Complementary merchandising is a technique that retailers use as a way of upselling to customers that already know what they want.  It is basically locating related merchandise that goes together so that the customer is actually tempted to buy that one additional item to enhance their experience with their planned purchase.  They may be in the store for a six pack of beer, but when they turn around from the walk-in cooler they see chips, dips, and other salty snacks on the end caps across from the cooler.  Or maybe placing bananas alongside boxes of vanilla wafers will awaken their desire for the combination.  Or offering some exotic cheese across a wine display could temp the wine enthusiast.    There are many countless opportunities for the creative retailer to use the concept of complementary merchandising, but it is most effective when it is combined with a creative gondola shelving and an effective store layout designed to enhance customer flow.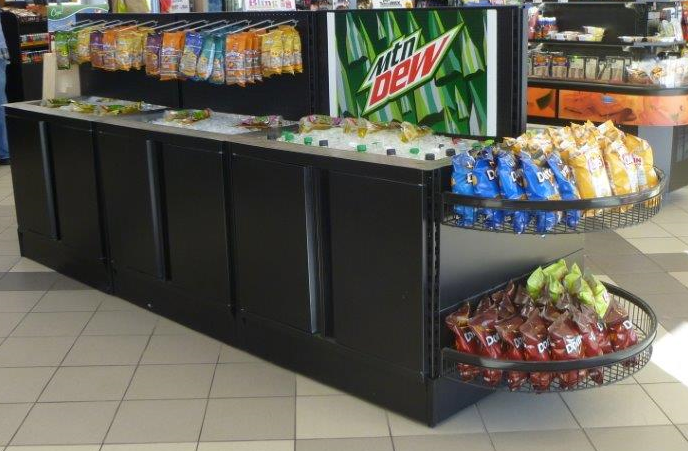 Product samples can be a consumer-friendly way to assist customers and stimulate their thought process while generating incremental sales. Merchandising theory states that impulse marketing takes place on a subconscious level, and that placement of foods in prominent locations increases the rate at which they're purchased.  Of course, if a customer can sample something and they like it, they are many times more likely to purchase some of that product for a larger sampling if nothing else.
THE END CAP EFFECT:
End caps are often the most misunderstood and underutilized spaces in the retail store environment.  There is an old axiom that "you merchandise on gondola shelving, but you sell off of end caps"!  In fact, only a small percent of the total items in a typical store are on end-of-aisle displays, or other secondary promotional displays, but may constitute a much larger portion (often up to 30-percent) of all store sales from gondola shelving.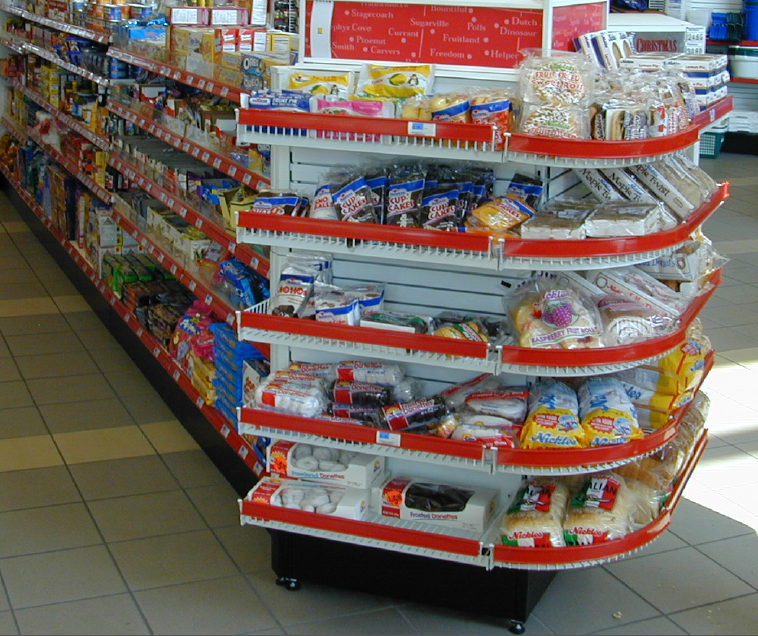 While retailers often use this space to promote sales or highly discounted merchandise, the fact is that half of the shoppers purchasing an item from such end caps are unaware the goods are being sold at a reduced price.  So in other words, many retailers are simply giving away profits to their shoppers because they are misled into thinking that price considerations dominate shopping decisions when research simply doesn't support that point of view.  Customers are willing to pay for convenience.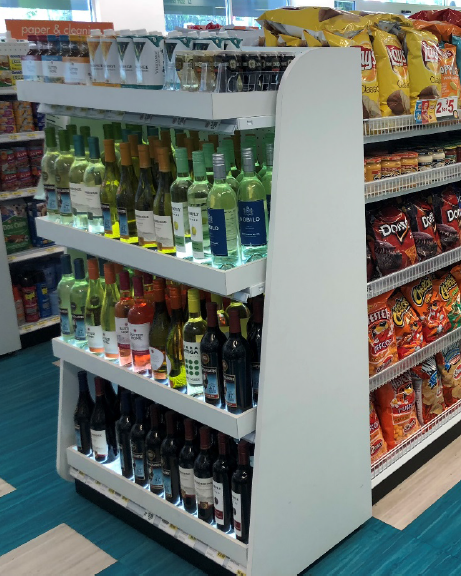 SUMMARY:
In summary, a well-designed store layout should include staggered gondola shelving runs with more and shorter sections of fixtures. Shoppers are more likely to enter a center store area that utilizes shorter, less daunting gondola shelving runs. The staggering of the runs greatly increases a shopper's exposure to end caps as they walk through the store.  And even using different heights of gondola shelving, lower in front and higher in the back, can create the illusion of a more open and inviting store environment.
Integrating specialty merchandisers into the center of the store will improve incremental sales. Utilize special spot merchandisers, including signage and/or graphics, to draw attention to merchandise within specific merchandising categories and catch the customer's attention.  The proper layout will also make room for shoppers to navigate around the specialty displays between the aisles.
The correct customer flow expands the sales potential of end caps. Not only can the layout increase the end cap's merchandise potential, but it should also make the merchandise on the end cap visible from various and wider angles.  A proper store layout with well-designed gondola shelving runs will create an inviting and friendly store that encourages impulse sales, which in turn leads to repeat customers and return visits.