SHOPCO has recently been named as one of only twelve master distributors of Madix fixtures in the USA!   As such we have committed to carrying an extensive inventory of the Madix Maxi-Line gondola shelving in both black and Sahara (beige) colors for quick ship availability to our customers.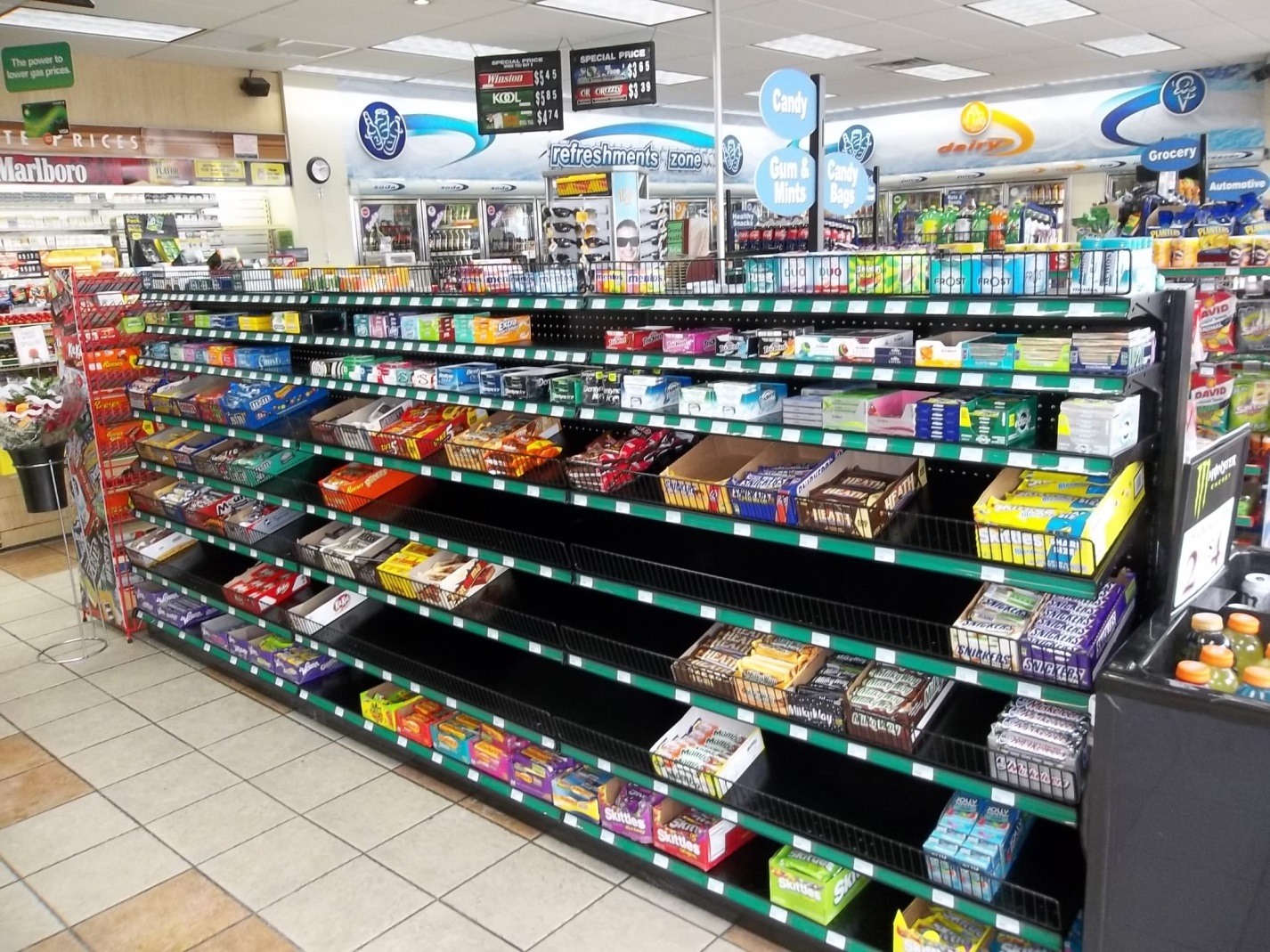 In addition to being a distributor of Madix shelving and fixtures SHOPCO has been a well-known convenience store partner for over thirty years, supplying thousands of c-stores throughout the country, including many national chains, with our all metal European style shelving and metal cabinet system, which is specially designed for convenience store applications.  Having assisted many hundreds of c-stores with creative and innovative layouts and designs over the years, we are known for our quality products and convenience store design capabilities.
Now we have teamed with Madix to offer an alternative to the higher priced systems.  The Madix shelving is an industry standard that is competitively priced and compatible with many other domestic shelving systems. This gives you the option of buying Madix shelves on a quick ship basis for your existing domestic manufactured gondolas. You also have the option of ordering new Madix gondolas from SHOPCO and using old shelves from your existing inventory that wouldn't fit on our European style system.  Either way the Madix system is a great option from a proven long-time supplier to the convenience store industry.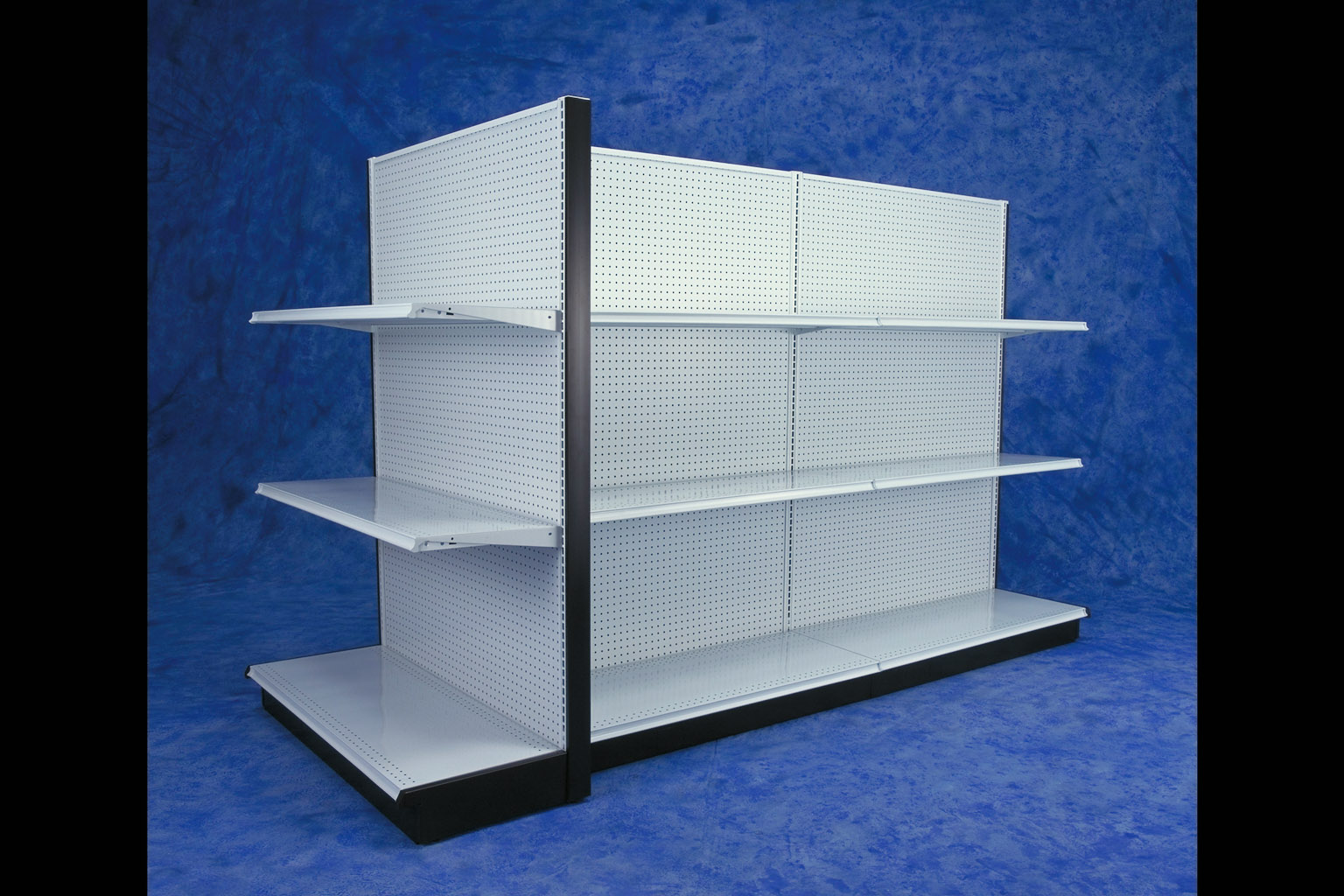 Madix fixtures are manufactured in a highly automated facility with the most modern technology to create store fixtures that are as cost effective as they are functional.  Uprights are engineered of heavy gauge steel with a one inch slot pattern for adjustability and conformity to many other manufacturer's shelves as well as vendor racks.  The five inch high foot is designed for ease of installation and structural integrity with levelers for use on all types of floors. The high density hardboard back panels fit flush with the front of the upright and are painted in various colors (in stock in Sahara and Black).
Gondolas and wall units with pegboard back panels are stocked in 3-ft and 4-ft lengths, 42-in through 96-in heights (in 6-in increments), with base decks from 12-in, 14-in, 16-in, 18-in, and 22" depths and standard upper shelves from 10-in, 12-in, 14-in, 16-in, 18-in, 20-in, and 22-in depths.
The standard Madix upper shelf is designed with an integral price rail on the front edge of the shelf which can serve to hold pricing tickets, UPC codes, or vinyl color strips for coordinating with corporate color schemes.  Many other sizes and colors, as well as various back panel options including slat wall panels, wire grid panels, metal back panels, are available with standard fabrication lead times.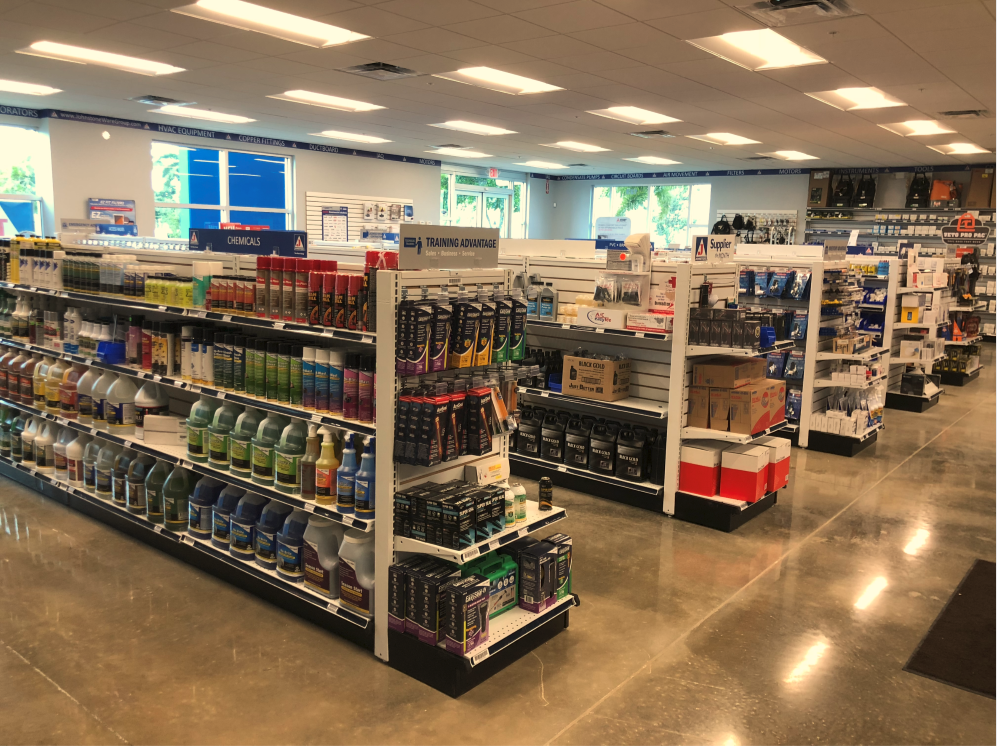 Industry standard system
As one of the largest shelving manufacturers in the United States, Madix has been an industry standard for more than 40 years. The Madix "Maxi-Line" gondola system is widely used in the convenience store industry as the standard for literally thousands of stores across the country. The Madix shelves are interchangeable with most domestic shelving systems.
While Madix supplies many different types of retail stores from the big box stores, to hardware stores, office supply stores, drug stores, grocery stores, sporting goods stores, and many others, they are also one of the largest suppliers to the convenience store industry.
Recently they have changed their marketing strategy and have gone from several hundred dealers across the country to twelve master distributors to handle the local and regional sales to non-national account customers. SHOPCO USA is one of those twelve master distributors and one of the only ones focused strictly on convenience stores, college campus stores, truck stops, and small retail shops including manufacturer showrooms.  SHOPCO's many years of experience can be a tremendous asset when designing a c-store, whether it is a new build or a remodel situation.
Vendor racks
Many of the suppliers to the convenience store industry offer free vendor racks to the independent c-store dealers to display their specific products. These racks are often given to the c-store dealers for free as an incentive to display that manufacturer's products.  While many larger c-store chains avoid vendor racks so that they can have more control over what is merchandised in their stores and how it is merchandised, this can be a useful tool for smaller chains with limited budgets to gain more display fixtures for a minimal cost.
Almost all of these types of vendor racks are designed to fit in the Madix shelving systems.  In fact, due to the many thousands of c-stores that have Madix shelving, many vendor racks are designed to specifically fit in the Madix system.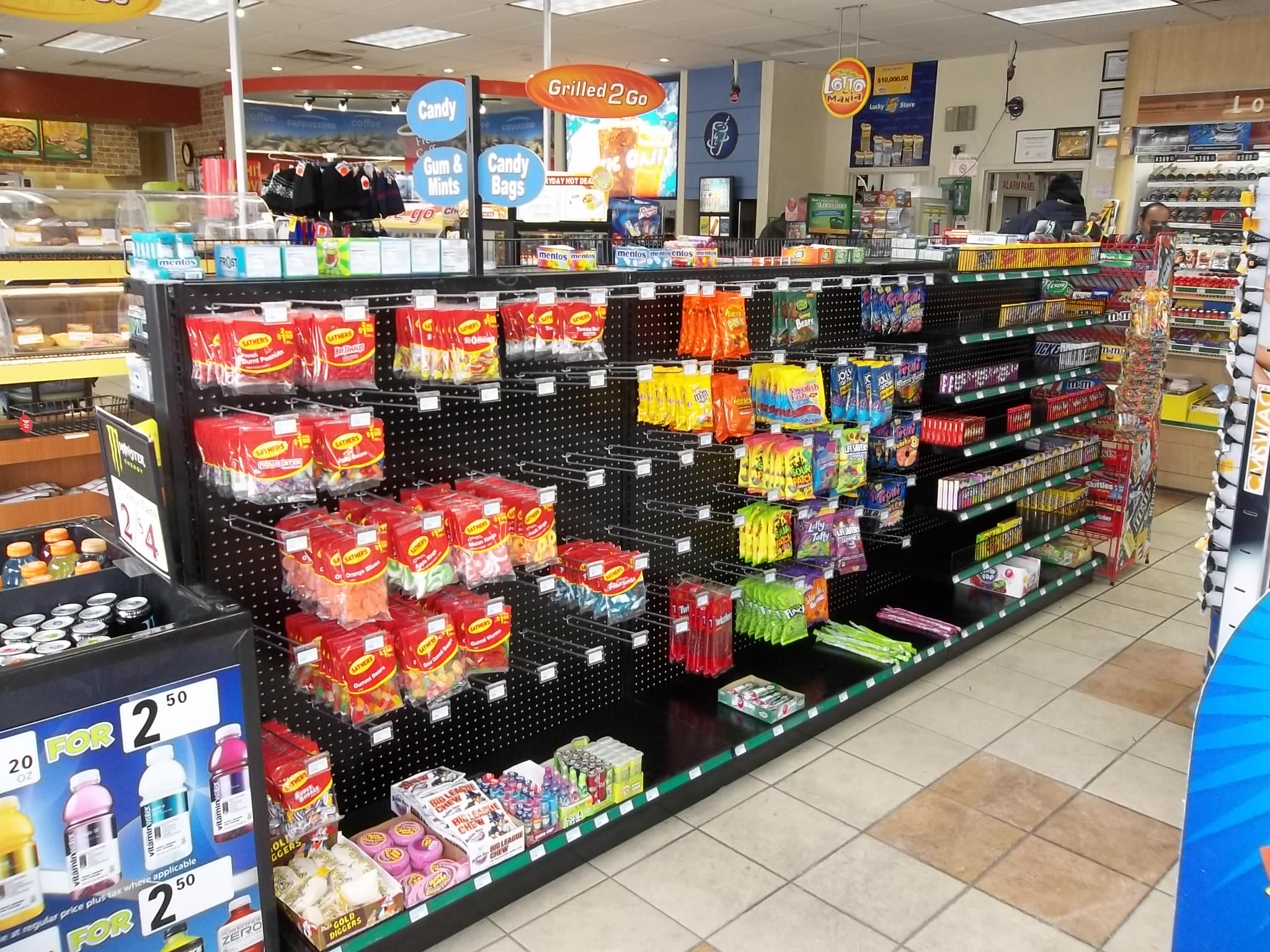 Accessory options
Since Madix has such a tremendous volume of products and such a wide customer base, they have a huge array of product designs and accessory options available to the convenience store dealer.  SHOPCO specializes in the convenience store market and primarily stocks the Madix accessories that apply to that market. These range from 1" high front product stops, 3" high front wire fences, wire shelf dividers, wire shelves, pastry racks, bulk product display pedestals, peg hooks in various sizes and types, and many others.  These accessory items are usually in stock and available in a few days. However, the full range of Madix accessory items are available from SHOPCO with the standard lead time from Madix (which ranges from 6 to 8 weeks depending on the volume of orders in house and the production lead time).
Some of these other products include items such as the Madix Wide-Span store room shelving (which is designed for maximum efficiency in storing over supply of merchandise items), 4-way gondola units (free-standing or on castors), wine displays (various types and sizes), candy display racks, wire grid displays, back room office desks, work tables, and many others.  In fact, the Madix heavy-duty system has been used in many walk-in coolers for "beer cave shelving" allowing the shelves to be used in a cantilever design (similar to the retail shelving wall units) instead of having to use a 4-post type system.  This can be a real advantage for displaying many different beer brands, as well as maximizing the storage capacity of an extremely space–limited cooler area.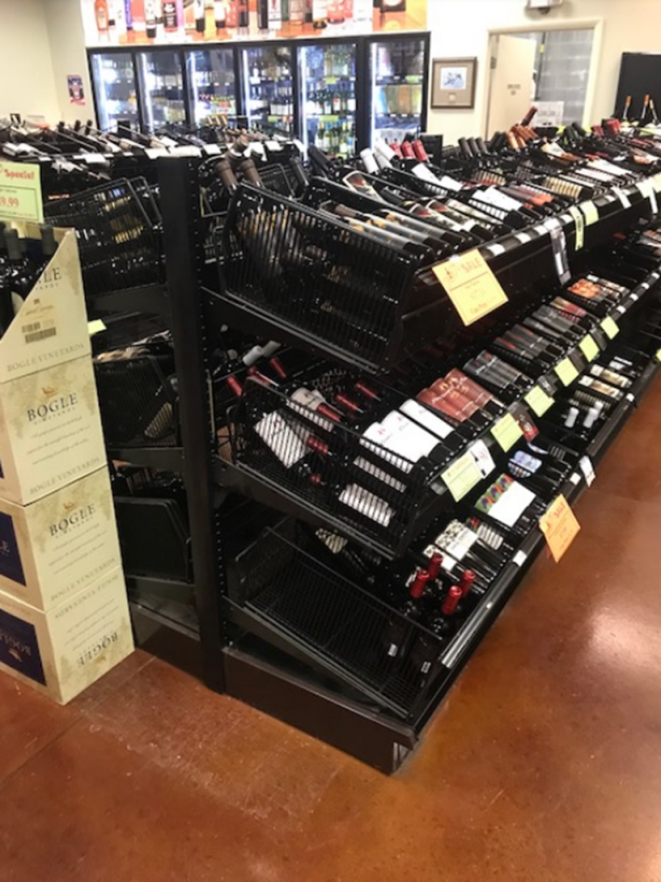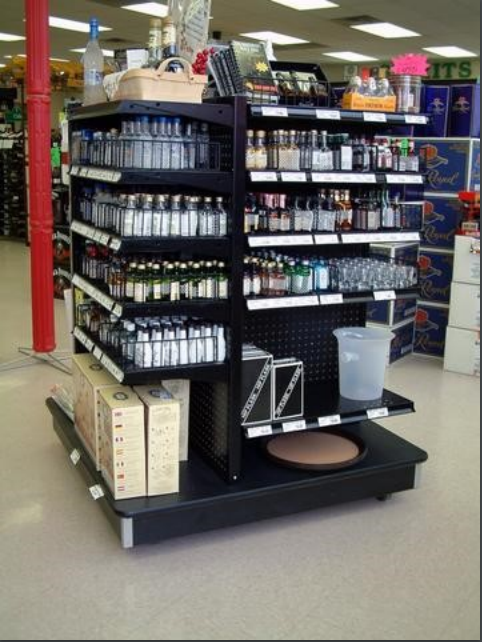 Wide range of sizes available
With the incredibly large range of markets served by Madix comes an enormous range of sizes for their shelving systems.  In order to better serve the convenience store industry SHOPCO maintains an extensive inventory of standard Madix shelving components that range in heights from 48" high to 96" high in six inch increments, depths from 10" to 18" in two inch increments (plus 22" depths), and both 3-ft and 4-ft lengths.   Additionally both 24" and 30" lengths are available in a limited number of shelving depths.
The standard Madix shelving products include double sided gondolas, wall units, end caps, end frames, 4-way gondola units and many other items. In addition to the standard metal upper shelf, SHOPCO maintains Madix wire shelves in various sizes for specific merchandising capabilities for various product categories, such as candy, health and beauty aids, chips and dips, as well as salty snacks, and several others.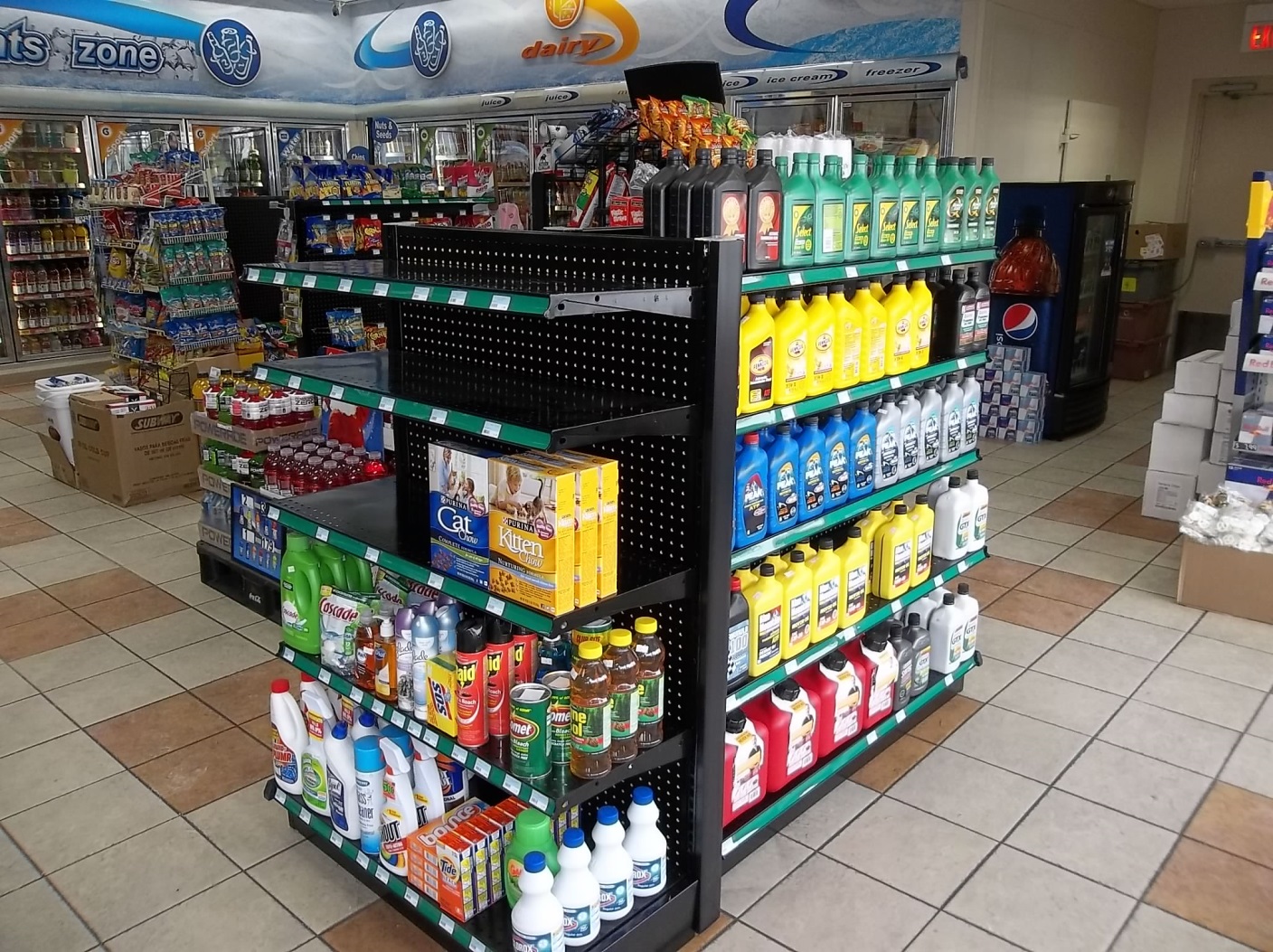 Madix reputation
Over the years Madix has developed a reputation for quality products that meet the test of time.  The Madix Maxi-Line gondola system was designed to handle a wide range of shelving applications and is fabricated of heavy gauge steel to be versatile enough to hold up to the needs of a wide variety of product applications.  These shelves work equally well for small items such as candy and snacks, as well as the larger and heavier items such as groceries, twelve packs displays, water bottles, etc.  In fact, the Madix shelving system is a logical solution for many liquor store applications.
SHOPCO offers the fastest lead time in the industry
While SHOPCO prides itself on its long standing reputation for superior customer service demonstrated by our many thousands of repeat customers over the past thirty-plus years serving the convenience store marketplace, one of the other main advantages in dealing with SHOPCO is our extremely short lead time for Madix shelving products.  Since most of the standard Madix shelving items are in stock in our warehouse in both black and Sahara colors, we can ship orders in a few days instead of several weeks. This can be a lifesaver for store openings when the shelving has not been ordered in advance, or for store remodels when a few shelves are needed to supplement the existing shelving on hand.  And since the Madix shelving is interchangeable with many domestic shelving systems (including Lozier and many others), SHOPCO's quick ship ability can serve as an extremely valuable resource for convenience store dealers needing shelving in a short period of time.
Let SHOPCO's extensive experience in the convenience store marketplace, coupled with our large inventory of c-store products for quick ship capability, and Madix's extremely versatile product line of Maxi-Line shelving help you with your next c-store project.