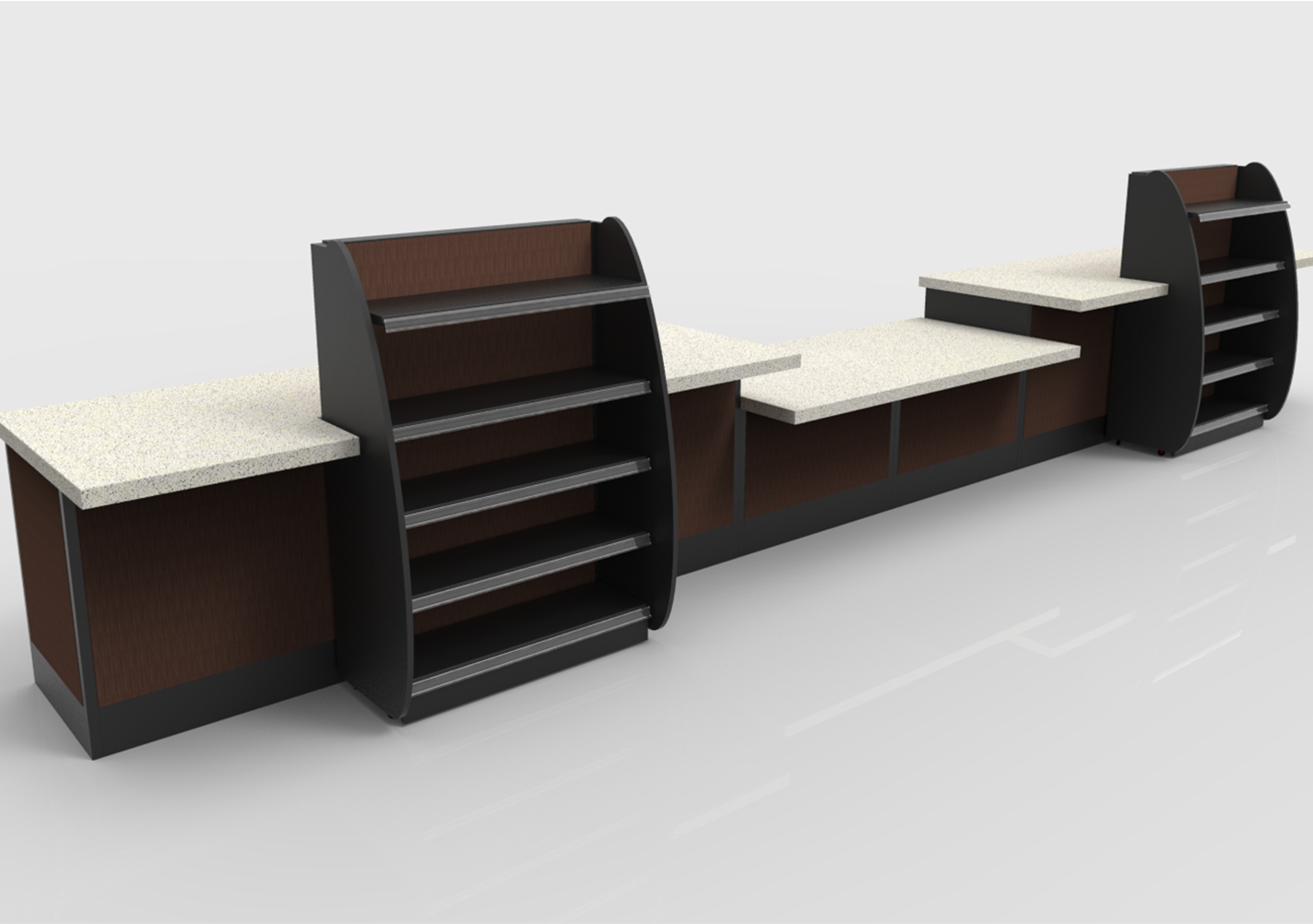 The retail sales counter can potentially have the greatest impact on the customer. Since every customer must stop here, it is important to make the visit productive and profitable.
SHOP-FLEX 
Known as "The next generation of cabinets", SHOP-FLEX is designed with the durability of steel, combined with the economy and versatility of smooth, mini-slat, or wood fronts with customized countertops.
The simplified component design allows for tremendous versatility as well as ease of field assembly inside your convenience store.
Standard components can be configured in a wide variety of ways for many design options.
The SHOP-FLEX Metal Sales Counters are great for many purposes such as sales counters, kiosk counters, reception desk, rear storage counters, and warehouse counters. SHOP-FLEX Metal Cabinets are in stock in black. Click Here to view custom colors available for the SHOP-FLEX Metal Cabinet System.  Also available with "see-through" front panels.
4D Sales Counters
By utilizing the same standard, mass-produced components from SHOPCO's Euro-Style Gondola Shelving, the 4D Upright Sales Counter is a functional, all-metal sales counter designed just for you! The 4D Sales Counter is a unique component checkout counter design. Much like the concept of an "erector set", this sales counter system is made up of mass-produced standard components that can be assembled in different ways to create a customized solution for all retail merchandising needs.
4D Sales Counters are available with metal smooth, pegboard, slat wall, and mini-slat wall panels. Curved sections are also available. The Counter interior on the Clerk side can be customized to suit various equipment needs as required including interior shelves, cigarette trays, bag holders, printer shelves, trash can areas, drawers, safe openings, and built/drop-in lottery displays.
Our 4D Sales Counters can be designed to match our food service counters and gondola shelving systems.
---
---
Gallery
Click to Enlarge
---
---